I actually got one, one year. Long before they had any association with being popular in a fun way.
It intrigues me why some people give a gift when they are unsure about the recipient's style, likes and dislikes. Don't we want our gifts to be used and appreciated?
Sure, we can give a gift card and someone can go choose what they want. But a gift card is really just a convenience for us, as givers. It's so easy to pick up at your local grocery store now and select anything. That's a convenience and that's the easy way out with little or no thought put into it. Appreciated? Perhaps. Remembered? Doubtful.
72% of homeowners say they have received a gift from their Realtor after the transaction closed, but either do not remember what it was or they found it to be something they did not use.
One recent comment from a survey pertaining to gifts from Realtors, specifically home decor, door mats, blankets and artwork, likened these things to an ugly Christmas sweater. He said "it would never be worn but used as a form of entertainment at the next house party to show friends and family what they received as a closing gift."
OUCH.
So why are we trying to inject "our" style and likes upon our coveted clients? Especially if we are interested in getting referrals from them.
There is one thing that every homeowner needs and will use consistently starting on day ONE. It doesn't matter if it's a million dollar home or a $100,000 condo. Clients need a set of basic tools to open packing boxes, to hang their artwork on the wall, to measure that space to see if the couch fits or what size window coverings they need.
Useful gifts are appreciated and remembered. Now, you can go one step further and custom embroider it with your logo and include 10 business cards in the exclusive card holder. You've just made it easy for your client to share your information with a tangible piece, your business card. It's like having a pop up ad in your client's home!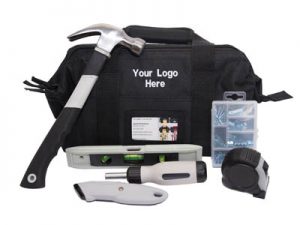 You've instantly created 60 touch points annually because clients will reach for this kit on average 5x per month. Consistent branding for company. Consistent branding for you.
Now that's the SMART Closing Gift.