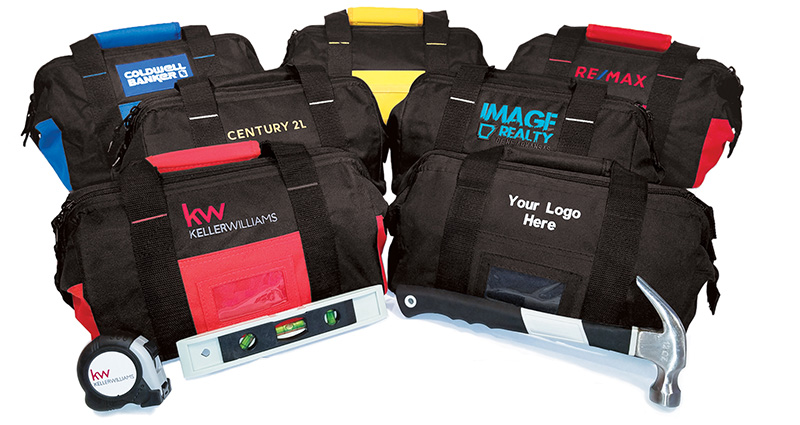 Closing Gift / Referral Builder
will increase your business.

Perfect For Agent Closing Gifts
Our toolkit contains a business card holder for 10 business cards. Keep your contact information front and center each time your clients reach for their toolkit.

Great For Employees and/or Client Appreciation Gifts
Give a customized gift they will use and appreciate, so they will think of you often.

Create Your Own
Great gift idea for graduation, birthdays or any holiday. Choose your color scheme and add your own logo or message.
Our Unique Referral Solution Keeps you Top of Mind!
This is an effective referral builder for individuals or companies, such as real estate agents, lenders and insurance companies. It doubles as the perfect closing gift that WILL be used and appreciated.
With 10 business cards on the front of the toolkit, you've just made it easy for your client to share your information.
When you make something easy for someone, they will do it!
Testimonials
"As part owner of RE/MAX Premier Realty in Worthington, MN, I have contact with many providers.  I met Janet, owner of Zowee Products, at an R4 event 3 years ago and she introduced our company to a wonderful closing gift.  This item has proven to be a closing gift that all of our agents in our office like to gift their clients.  Janet and the Zowee Products Team were fun to talk to at the R4! The product they sell is much appreciated by all!  Bottom line – Janet has treated our company fairly and they are quick on getting our order filled.  We appreciate working with her very much!"

Kathy Hayenga, Co-Owner RE/MAX Prmier Realty, LLC
"I had no idea how much I would use this. Like many people, we had a drawer with various tools for home repairs. But after getting into our new house and beginning the massive job of unpacking boxes, our new toolkit was right there. It had everything I needed to open boxes, take child locks (we don't need them) off of cupboards, hang pictures, remove nails and screws, and measure for blinds. It has been invaluable, and I've found myself repeatedly going back to it for the next project. It has been such an appreciated gift we'll always use!"
J.A. Whitlock- Client of RE/MAX 400 – Grand Junction, CO
"As a business owner, I'm always looking for new and creative ways to increase referrals. Our clients love the customized tool kit and we love the branding and new business it generates. This truly is a gift that gives back!"
Kathleen Rebhan- Real Living, Carolina's

"I haven't found a better way to stay in front of my clients while providing them with such a useful gift. I love this concept!"
Kristin Ringie McDonnell-RE/MAX 100, Inc.- Lakewood, CO